The SL-AVB-Mix AVB networking card for the PreSonus StudioLive AI-series console and StudioLive RM-series rackmount Active Integration mixers supports their use in live sound network, using Cat5e or Cat6 cables instead of a snake.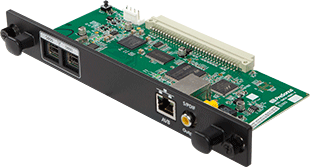 AVB enables synchronised, real-time, low-latency, streaming of audio across an Ethernet network using self-configuring, plug-and-play components. All StudioLive RM-series mixers already have the SL-AVB-Mix option card installed and require a firmware update to enable AVB networking functionality. The card is offered as an upgrade option for StudioLive AI console mixers.
With this first phase of AVB support, the StudioLive RM32AI or RM16AI can serve as a stage box and monitor mixer for any StudioLive AI-series FOH mixer. The mixer's XMax preamps may be controlled from the console, and the Fat Channel processing and FX buses can be sued for independent monitor mix processing from the FOH mix.
The mixers on the AVB system can be set up synchronised, in a single step. All input routing to and from the onstage RM mixer and the mixer at FOH is configured automatically by changing the channel source from 'analogue' to 'network' on the channels to be source from the other mixer.
In addition, the talkback and main LR mix from FOH are set up as the talkback input and main LR outputs on the RM mixer onstage. The talkback on/off at FOH also engages the talkback onstage, making it easy to communicate with the band.
Both mixers can be controlled using PreSonus UC Surface touch-control software or VSL-AI and SL-Remote AI for Mac, Windows and iPad, and all aux mixes can be wirelessly controlled using PreSonus QMix-AI for iPhone/iPod touch. All audio and control data flows over one slender Ethernet cable.
'This is just the beginning of PreSonus AVB networking,' says Senior Product Manager, Ray Tantzen. 'We have big plans to unleash the true power of a networked audio system. Our implementation of AVB will continue to grow, supporting more workflows and more devices from PreSonus and other manufacturers.'
The SL-AVB-Mix option card for StudioLive AI Console Mixers is shipping now at US$399.95.
More: www.presonus.com