Aviom has released mounting accessories for its new AllFrame Multi-Modular I/O System. With the FK6 and SK6, AllFrame I/O boxes can be installed in stageboxes, existing floor pockets or used as drop-boxes on stage.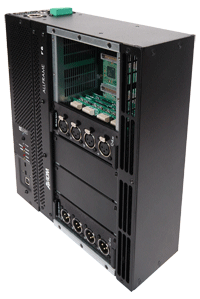 At the centre of the AllFrame Multi-Modular I/O System is the F6 Modular I/O Frame, a multi-purpose network frame with six field-configurable I/O card slots and integrated Cat5e and fibre-optic connectivity that can be configured to meet the audio I/O requirements of nearly any application. Additional mounting options for the F6 include on-wall or in-wall mounting using a standard NEMA Type 1 enclosure or rack-mounting, with connectors facing the front or rear, using the RK6 rack mounting kit.
Aimed at permanent installations such as houses of worship, theatres and conference centers, as well as touring and portable live sound applications, the AllFrame I/O system eliminates several expensive and labour-intensive stages of the signal chain while reducing cable clutter. Instead of soldering, terminating and testing of analogue connections; installing conduits and pulling separate cables for each audio signal, AllFrame requires a single Cat5e or fibre, connection plus DC power (which can also be supplied over the Cat5e cable).
The system offers users multiple connectivity options via modular I/O cards. The C4m mic/line input card provides four remote-controllable analogue mic- or line-level inputs, using the same circuitry as Aviom's 6416m Mic Input Module. Inputs from the C4m can be controlled from an MCS Mic Control Surface, certain Yamaha digital consoles, or Pro64 Network Manager software. The C4o output card provides four XLR analogue outputs with variable output levels, controllable in 1dB increments. Remaining digital throughout the signal chain requires the C2dio Digital I/O Card with 2x2 AES3 I/O with Word Clock I/O.
All AllFrame devices support Cat5e cable runs up to 400ft (120m) between devices. With integrated fibre-optic connectivity, cable runs can be extended to over a kilometer (multi-mode fibre) or tens of kilometers (single-mode fibre). The AllFrame can be used in conjunction with Aviom's line of Pro64 audio networking products and Pro16 Series Personal Mixers. Because Pro64's Auto Mode supports any combination of serial and parallel wiring topologies, without affecting signal flow at any point, I/O points can be placed anywhere the application requires.
'By digitising the audio input signal at the initial connection point, the AllFrame Multi-Modular I/O System keeps analogue cabling to a minimum, reducing system complexity and labour costs while delivering improved performance and flexibility,' says Aviom Product Research and Development Manager, Ray Legnini. 'These new mounting options are ideal, particularly for houses of worship looking to streamline their signal chain and clean up their stage.'
More: www.aviom.com