The Mutec MC-1.2 is a new USB audio converter for use in professional and project recording studios.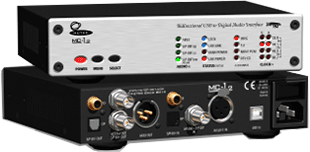 Based on the latest USB streaming technologies, low-jitter audio clocks and ultra-low noise circuit designs, the MC-1.2 regenerates and improves USB audio streams. It also supports bi-directional conversion between USB audio streams, AES3, AES3id and S/PDIF signals.
Signals received at the USB port are presented at five digital audio outputs simultaneously, allowing connection of multiple receivers to the host computer. When selecting one of the digital audio inputs, the signal received is converted to a USB audio stream and sent into the computer. This enables the simple connection of bi-directional signal exchanging devices to the computer.
The MC-1.2 also works as USB isolator to decouple noisy computers or music servers from audio systems. Multiple stages of independent ultra-low noise power supplies drive individual sections of the circuitry to guarantee isolation of the incoming USB stream from the digital audio outputs – the audio quality of a DAC can be improved by passing it through the MC-1.2.
The MC-1.2 can be operated using its internal power supply or alternatively powered through the USB port for mobile use.
More: www.mutec-net.com