DirectOut has announced an updated version of its Madi.Bridge interface, adding redundant power supplies, a USB port to enable firmware updates for future enhancements and additional remote control capabilities.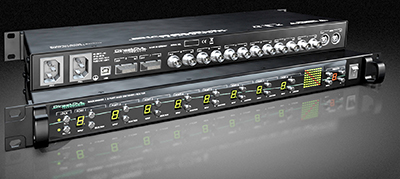 Madi.Bridge acts as a patchbay, signal distributor, signal buffer and input selector in a single device, supporting the connection of up to 16 devices via six coaxial (BNC) Madi I/O ports and two optical multi-mode Madi ports. All input signals are routed to the desired outputs in their native state, supporting any format regardless of channel count, whether or not control data and/or sample rates are included – or even violations of the Madi protocol.
Sensitive input stages with sophisticated EQ mean that up to 100m coaxial cable runs can be supported between devices. An intuitive and easy to navigate user interface makes for fast and straightforward operation.
'There are some products that never outlive their usefulness, and this is one of them,' says DirectOut CEO, Stephan Flock. 'We've given it a bit of a facelift and added some extra features, but the essential functionality remains unchanged because that is what our customers have asked for. We're only too happy to oblige.'
Key features:
· Madi coaxial BNC, 75Ω (6)
· Madi optical SC, multi-mode (2)
· Midi I/O for remote control
· USB for firmware updates and remote control
· Two (redundant) power supplies
· Preset management
· Device lock to prevent accidental changes
More: www.directout.eu