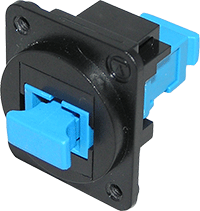 Working in collaboration with Canford Audio, telecom and data and broadcast cable specialist TUK has introduced the D Universal series audio, video and data connectors for use in XLR type cut-outs.
The UK-based manufacturer has designed the new connectors for rear mounting, all having flush appearance when mounted in suitable panels. With a black nylon mounting plate, pre-threaded for M3 screws, the connectors can be mounted quickly without need for any securing nuts. Already tested in a range of communications environments, all connectors are made to relevant standards and are CE compliant.
The D Universal series connectors are now available exclusively from Canford Audio.
More: www.canford.co.uk
More: www.tuk.co.uk