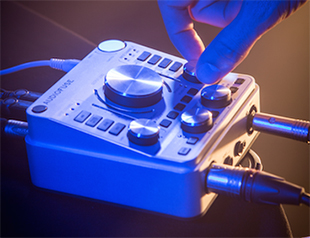 Music software and hardware developer Arturia is to enter a new market sector with the forthcoming release of a 'next-generation' portable audio interface.
The interface will serve Mac and PC computers as well as Apple iPad and Android devices, offering microphone, line, phono and instrument inputs, accommodating different signal levels and different impedances. It will support various digital audio formats including Adat and SPDIF, and sport word clock, USB and Midi connections.
AudioFuse's 24-bit AD/DA convertors support sampling up to 192kHz. AudioFuse also acts as a three-port USB/MIDI hub, as well as offering a talkback feature and insert connections.
'At Arturia we are stubborn, and we think we can do something different,' commens Arturia President, Frédéric Brun. 'We think we can bring something new to market.'
More: www.arturia.com