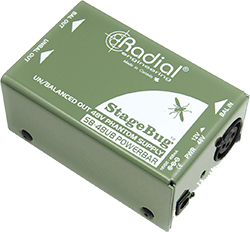 The Radial Engineering StageBug SB-48UB is a phantom power supply that enables a guitar, bass or mandolin player to connect a condenser microphone designed to accompany Radial's PZ-Pre or PZ-Deluxe.
'Since the PZ-Pre is able to combine two inputs using a blend function, one can mix two types of pickups together,' explains Radial circuit and mechanical designer, Nancy Smith. 'This has led the demand to combine a condenser microphone with a pickup. The SB-48UB takes the balanced input from a condenser and supplies 48V phantom power. It also outputs an unbalanced signal that is appropriate for the PZ-Pre and the more affordable PZ-Deluxe.'
The unit has a solid steel outer shell with XLR female input to connect the mic. Power is derived from a 15V DC supply and an internal non-radiating charge pump elevates the voltage to 48V for standard phantom power use or it may be set to 12V DC. A choice of balanced XLR or unbalanced quarter-inch jack output is available.
The SB-48UB retails for US$150 and will ship in September 2014.
More: www.radialeng.com