Studio Technologies has released the Model 5202 Dante-to-headphone/Line output interface and Model 5204 Dual stereo-to-Dante Interface. The units interface into a Power-over-Ethernet-supported Ethernet network.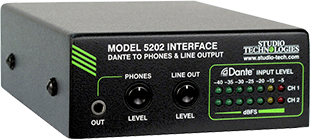 The Model 5202 derives headphone and balanced line-level analogue outputs from two Dante-associated audio channels – with uses ranging from headphone or loudspeaker monitoring to interfacing with high-performance, on-air broadcast, stadium A/V or corporate audio systems. Seven-step LED meters provide confirmation of the level of the two Dante receive channels.

The compact, lightweight design allows the Model 5202 to be used in portable or desktop situations, or in fixed applications. Standard connectors ensure fast, reliable deployment. The unit uses Power-over-Ethernet (PoE), allowing a single Ethernet connection to provide both operating power and data.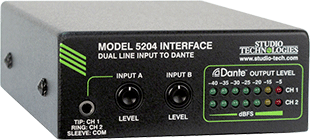 The Model 5204 allows two two-channel (stereo) analogue line-level audio signals to be converted to two channels on an associated Dante connection. Analogue signals connect to line Input A via a 3.5 mm jack, which allows direct interfacing of signals from consumer and 'prosumer' sources such as personal audio and multimedia players, smart phones and computers.

These signals typically have an average (nominal) signal level in the range of -20dBu to -10dBu. Line Input B supports the connection of balanced analogue audio signals using two XLR connectors. Average levels for these types of signals are typically 0dBu or +4dBu.

Each input has an associated dual-channel rotary level control to optimise its audio performance. Following the level controls, the signals from Inputs A & B are summed to one two-channel signal. The resulting two channels are then output by way of the Dante interface. A seven-step LED meter shows the level of the output channels in dBFS. A unique resource is the Model 5204's dedicated charging port (DCP). Using a standard USB-type A receptacle, the port has a 5V output with a maximum current of 1A. An auto-detect feature provides compatibility with most personal audio players, smart phones and tablet devices.
'The audio-over-Ethernet revolution is rapidly enveloping the broadcast, corporate, installation and live sound markets with Audinate's Dante protocol leading the way,' says Studio Technologies President, Gordon Kapes. 'We are in the process of developing a wide range of products that embrace the Dante standard, which include the Model 5202 and 5204 Interfaces. The products' Dante capabilities allow for a straightforward installation process, as both units offer virtually plug-and-play performance that is essential for use during remote or live situations in which time is of the essence. The 5204 additionally offers a USB charging port for hand-held devices like smart phones, making these units ideal for desktop operation.'
More: www.studio-tech.com