Zaolla has introduced the Silverline microphone cable, combining the company's silver-core conductors with Neutrik XX-14 Series XLR connectors for professional studio and live performance applications.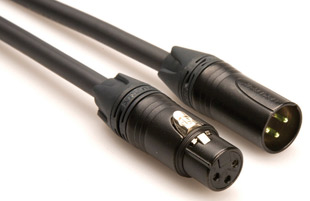 The new cable is designed around two solid-silver centre conductors, offering greater bandwidth than that of a copper conductor. As low-level analogue audio signals benefit from the MF boost and 'warmth' associated with copper, the Silverline cable features dual solid-silver centre conductors and enamel-coated, stranded-copper ancillary conductors in a unique hybrid configuration.
Zaolla Silverline surrounds the conductors with comprehensive shielding. Conductive PVC combines with a traditional copper braid to provide EMI, RFI and electrostatic rejection without the stiffness of a second copper braid. The cable is also constructed with materials designed to reduce friction between cable layers. This accounts for their flexibility, enabling them to lie flat on the floor and wrap easily for storage.
Neutrik XX-14 Series XLR connectors combine the robust design of the XX Series with an improved chuck type strain relief designed for large-diameter cable. Features include the cage design of the female contact for low contact resistance and high integrity, as well as a solder barrier to prevent solder running into the contact mating area. Additionally, there is an improved solid metal latch that is larger, making handling easier. Zaolla Silverline employs the variant with gold-plated contacts for improved corrosion resistance.
'This microphone cable represents the latest achievement in our on-going efforts to build the very best cables possible for today's musicians and audio professionals,' says Jonathan Pusey, Director of Sales and Marketing. 'The new Neutrik gold-plated connectors help deliver the cable's superior sonic performance while also adding to its overall durability.'
Zaolla Silverline microphone cable is available in 3-, 5-, 10, 15-, 20-, 30- and 50-foot lengths.
More: www.zaolla.com