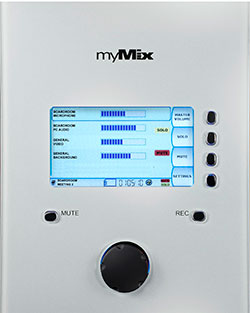 myMix Install is the latrest addition to Movek's myMix family – a permanent installation version of the decentralised networked audio mixing and monitoring system.
myMix Install offers a flexible, efficient and cost-effective way to transport audio throughout a building. Using a 48kHz, 24-bit lo-latency IP protocol, myMix Install supports room combining, listening/intercom systems, overflow rooms in HOW and many other applications. The name based auto-discovery of all devices and audio channels is designed to be easily navigable. As with the portable version, the user interface is intuitive to operate to allow non-technical personnel to operate the system.
Each myMix has two mic/line inputs with switchable phantom power and a stereo mic output at balanced line levels. Stereo mixes can be sent back to the network and used from any other myMix device just like any stereo signal.
myMix Install can be desk or in-wall mounted (with optional in-wall box). The decentralised system architecture allows the system to be expanded by adding units to the network, supporting hundreds of audio channels if required. Central managment of more complex systems is achieved with myMix Control – a web-based browser remote control allows entire myMix systems to be configured, edited and locked by technicians while still providing basic functionality for other personnel.
Key features:
Decentralised network design
Intuitive, patented user interface
High-quality, low-latency Audio Over IP
Desk or wall mount
100MB/s Fast Ethernet with Cat5 cabling
Two mic/line inputs and stereo mix output
Connections on Euro Block
Fully compatible with all myMix devices
More: www.mymixaudio.com