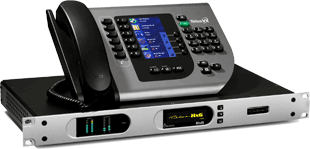 Telos has announced the Hx6, multi-line broadcast telephone system, offering 'an instant audio upgrade to broadcasters with phone-centric programming'.
Hx6 is a six-line Talkshow system, equipped with the latest Telos hybrids and a suite of audio processing capabilities that includes Telos' Digital Dynamic EQ. Hx6 works with analogue POTS or ISDN digital phone lines, and features two hybrids for high-quality conferencing.
Key features:
· Advanced digital hybrids with DSP algorithms optimised for a variety of phone lines, including VoIP and mobile callers.
· Telos DDEQ (Digital Dynamic EQ) and adjustable smart-level AGC provide consistent audio, including mobile handsets.
· Symmetrical wide-range AGC.
· Studio adaptation and inaudible pitch shifter to prevent feedback.
· Sophisticated caller override.
· VSet6 phone controllers with large VGA LCDs.
· Status Symbols provide animated, high-contrast icons
· Caller ID works with analogue and digital telephone connections.
· Supports on-console control of multiple lines and hybrids from Axia IP-Audio consoles.
· Livewire IP-Audio port for fast, one-cable connection to Axia networks.
· Choice of standard analogue I/O or optional AES/EBU I/O.
· XScreen Lite call screening software from Broadcast Bionics included.
· Easy set-up and configuration via Ethernet using web browser.
· Different Hx6 versions for use with analogue POTS phone lines, ISDN-S (Europe), or ISDN-U (North American) digital phone lines.
Telos Hx6 is shipping now, at an MSRP of $3,790 for a POTS system, which includes a VSet6 phone controller and XScreen Lite call screening software.
More: http://telos-systems.com