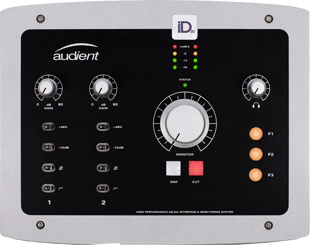 Audient has released the iD22 desktop recording interface, designed to 'transform a DAW into a world-class recording system'.
The unit features two inputs and six output, along with Adat I/O with 96kHz, 24-but AD/DA converters. In addition, it provides console-style monitor control.
'iD22 brings together many of the things that people love about Audient into one inexpensive unit', says Audient Sales & Marketing Director, Luke Baldry. 'Everyone needs mic pres, conversion and monitoring, and nearly everyone is connecting to a computer. The class-A mic preamps are exactly what you'll find in our stand-alone units and consoles, and the best you'll find in any interface.'
Key features:
· High dynamic range AD converters
· High dynamic range DA converters
· Stereo output with fully balanced outputs for critical listening
· Alt stereo output for alternative speakers and cue mixes
· Headphone amplifier with independent DA converter
· Optical I/O (8-channel Adat or two-channel SPDIF)
· Programmable function keys (F1-F3) to facilitate control over talkback, loudspeaker switching, sum to mono, polarity reverse and cue solo listen.
'You can expand iD22 via Adat, so you could attach an ASP008 for example, giving you an incredible 22 channels,' Baldrry adds. 'What you get for your money with this unit can't be faulted.'
More: www.audient.com