Sonnet Technologies has added support for Avid Pro Tools|HDX PCIe cards to its Echo Express Pro Thunderbolt Expansion Chassis for PCIe Cards.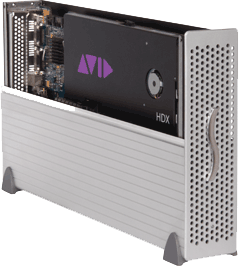 Current notebooks, mini, and all-in-one desktop computers have processing power close to that found in full-size desktop computers. Although their portability and compactness are highly desirable, these smaller computers lack expansion slots to install application-specific cards that connect various audio and video inputs. Echo Express Pro adds two PCIe expansion slots to any computer with a Thunderbolt port to enable the use of compatible PCI Express expansion cards.
The Echo Express Pro enables the use of two full-size, high-performance PCI Express expansion cards with any computer with a Thunderbolt port — including the latest Apple iMac, Mac Mini, MacBook Air, and MacBook Pro models. A supplementary connector has been added to connect power cables between the chassis and PCIe cards that require additional power, including the Avid card.
'Echo Express Pro has transformed the workflows of large numbers of working pros in the audio and video industries,' says Sonnet CEO, Robert Farnsworth. 'With this Thunderbolt expansion chassis updated to support auxiliary power requirements, and the availability of our custom power cable kit for the Pro Tools|HDX PCIe card, Pro Tool users will gain the ability to travel light and work in places and ways never before possible.'
Echo Express Pro (Echo-EXP2F) carries suggested retail price of US$799, while the Pro Tools|HDX PCIe power adapter cable for Echo Express Pro (TCB-HDX) carries a suggested retail price of US$29.95.
More: www.sonnettech.com