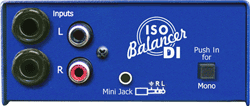 ARX Systems has added new ISO Balancer DI passive direct box to its AudiBox range of pro audio tools.
The unit converts unbalanced audio signals – from sources such as computers, tablets and smart phones – to balanced, low-impedance signals suitable for use with professional equipment and over long cable runs. Transformer ground isolation ensures low-noise operation, preventing ground loops and other extraneous noise.
The ISO Balancer DI features industry-standard 6.5mm jack, RCA and 3.5mm jack inputs to cover all connector types, and transformer balanced left and right XLR outputs. The unit also features a 'mono'ing' switch, allowing stereo signals to be summed for mono output.
The ISO Balancer DI is a fully passive device with no power requirements, making it a universal and reliable problem solver.
More: www.arx.com.au