Focusrite has targetted the iPad with its iTrack Solo two-channel interface for the iOS platform – although the interface is also compatible with Mac and PC computers.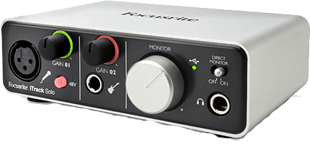 Focusrite's iTrack Solo is a dual-input audio interface designed for recording instruments and vocals, and is compatible with GarageBand and other popular recording apps. It can be used on a Mac or PC with up to 24- bit/96kHz digital performance.
iTrack Solo claims a professional, low-distortion, low-noise microphone preamp as used in Focusrite's flagship Liquid Saffire 56 interface. Phantom power allows the use of studio microphones, and an instrument input accompanies the microphone input on the front panel for direct input of guitar, bass and keyboards.
Owners of Focusrite's Scarlett 2i2 USB interface will find the layout and features familiar as iTrack Solo is based on the technology in Focusrite's range of computer audio interfaces. Focusrite's 'halo' indicators around the input knobs indicate recording levels, while a large monitor knob controls the output level. Monitoring can be switched to listen to a recording against a backing track without latency issues introduced by music software.
A supplied cable connects iTrack Solo to the iPad, powered by the included USB cable that delivers the power necessary to run iTrack. There is also a pair of phono connectors on the rear panel for connecting an audio system for playback.
More: www.focusrite.com