The ARX ISO Balancer VC converts a stereo unbalanced, low-impedance signal to a stereo balanced, low-impedance signal suitable for use with professional equipment and long cable runs.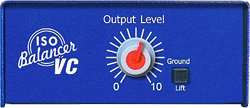 Along with the ormat conversion, the unit has a level control allowing the output level to se adjusted as required for accurate level control and matching.
In corporate A/V applications, the output from a DVD player, laptop computer, iPad or other audio source can be remotely controlled externally by the ISO Balancer VC without the need to scroll through pull down menus mid performance, or access the mixing console, or A/V system network controllers.
Transformer ground isolation provides low-noise operation suitable for any application, and an audio ground lift switch is also fitted, to minimise or remove ground loop hum.
More: www.arx.com.au