The Hosa Technology Tracklink Mic-to-USB Interface provides point-to-point connection between a microphone (XLR output) and a USB port on a personal computer. The interface allows recording of speech, vocals and sound effects with software recording systems.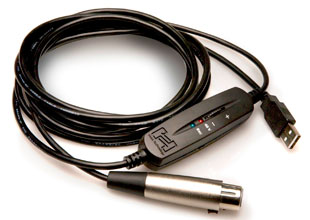 Tracklink is a 10-foot, XLR3F-to-USB Type A interface cable and requires no drivers. It is compatible with most Windows and Macintosh audio software, and for podcasting it simplifies the process of getting audio into a computer.
Tracklink incorporates switchable 48V phantom power for condenser microphones, adjustable gain for dynamic microphones and suppoers 16-bit/48kHz sampling, Tracklink runs with most Digital Audio Workstation or similar audio recording software on Windows PCs with Windows 98 SE, 2000, Me, XP, Vista (32-bit systems), or Windows 7. Macintosh computers must run OS-X 10.3.9 or later.
'Tracklink completes our Tracklink USB line,' says Jonathan Pusey, Hosa Technology Director of Sales and Marketing. 'If a mic pre or signal processor is used, the XLR connector simply plugs into the end of the signal chain. The onboard analogue-to-digital converter will faithfully reproduce the sound in CD-quality. Our Tracklink is an easy-to-use, Plug-and-Play solution that makes recording more spontaneous than ever.'
More: www.hosatech.com