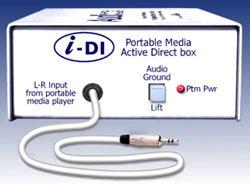 ARX has released the i-DI Portable Media Active Direct Box, aimed at corporate A/V presentations, seminars, system demonstrations/testing, live music and DJs.
'As tablets and smartphones have become an increasingly common audio source, an interface providing professional performance and build quality has become essential,' says ARX MD, Colin Park. 'Designed to fill this market niche, the i-DI connects all of today's (and tomorrow's) tablets and smartphone devices to via an attached heavy duty input cable, using ultra-low-noise and distortion circuitry, and balanced XLR outputs.'
Key features:
· Phantom Powered.
· Mini Jack plug flying input cable (500mm) with Amphenol pro connector.
· Load compensated/RF filtered input for low-distortion signal transfer.
· Full transformer isolation to eliminate ground loop hum/PSU noise.
· Electronic Balanced outputs. Ultra Low (<10Ω) output impedance for driving long cable runs without signal loss.
· Ground Lift Switch optimises Pin 1 output connection.
· Ultra low distortion (.004% 0dB output) circuitry.
· Frequency response 20Hz-20KHz ±1dB.
More: www.arx.com.au