Sonifex' Pro Audio Streamers comprise a range of three IP-to-Audio and Audio-to-IP streamers, which have professional analogue and digital inputs and outputs.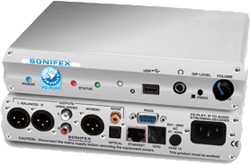 The three units in the range are the PS-Send (which converts an audio input to an IP stream), the PS-Play (which reads an IP stream and outputs to balanced and unbalanced audio line levels) and the PS-Amp (which reads an IP stream and outputs audio to stereo speakers).
The streamers allow audio to be streamed around a building, WAN or LAN using IP audio and Cat5 cabling infrastructure. Typical applications include backup STL (studio to transmitter link), audio confidence monitoring in remote locations such as at a radio transmitter site, and distribution of audio and music around a building (such as for passing audio to speakers in a conference room).
They can also be used as an internet-based IP music distribution system, a Tannoy paging or IP-based public address system, for in-house audio applications and distribution, streaming internet radio in bars and clubs, for radio and music channels in hotel rooms distributed via an IP network and for playing audio from a PC, a jukebox application, or from a USB stick.
More: www.sonifex.co.uk