Sidestepping the inconvenience and time consuming set-up required for Madi connectivity on a desktop or laptop computer, DiGiCo Solutions has released the UB Madi.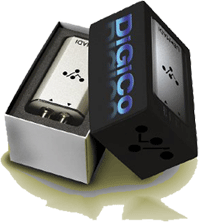 UB Madi allows any computer to instantly connect to Madi via 2.0, rather than using PCI or ExpressCard, and uses the latest Stealth Digital Processing FPGA technology from DiGiCo's SD range of digital mixing consoles. Yet the interface fits into your top pocket and delivers 48 simultaneous inputs and outputs, totalling 96 channels of audio I/O over USB 2.0.
Once the low-latency driver is installed, UB Madi is a plug-and-play device, automatically detecting the Madi input format and clock selection. It then communicates with a PC or Mac as a standard ASIO or Core Audio interface.
UB Madi requires a single USB cable to provide both audio and power connectivity. Unlike existing PCI based solutions, UB Madi is fully hot pluggable, booting within seconds of its connection.
'Delivering the convenience of USB combined with Stealth Digital Processing to professional audio engineers working with Madi has been a massively rewarding experience,' says the UB Madi project manager. 'Taking USB audio into the professional space has meant facing some significant challenges; from meeting PCB footprint and power constraints to, most importantly, the chipset selection and firmware design.'
'Having an R&D team that strives to push technology and deliver something considered impossible is motivational for the whole company,' adds DiGiCo MD, James Gordon. 'I am very proud of their achievement in this new area for DiGiCo. UB Madi will be a real problem solver for anyone wanting Madi connectivity on their computer and, as with all our Stealth Digital Processing based products, UB Madi has even greater potential for the future.'
UB Madi moves into full production in early 2012, with the first orders being fulfilled during Frankfurt's Pro Light & Sound show.
More: www.digico.org