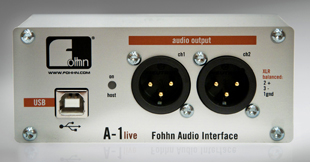 Fohhn Audio has released the A-1 live, a portable stereo USB audio interface that has been developed to enable high-quality, trouble-free transmission of audio directly from a computer/laptop to a professional sound reinforcement system, without the need for additional hardware such as a mixer or DI box.
Primarily aimed live sound applications and permanent installations, the A-1 live is a stand-alone USB device, equipped with balanced XLR stereo outputs and a galvanically isolated USB connection. These features enable audio to be directly transmitted from the computer to the sound reinforcement system avoiding any interference, hum, reduction in sound quality or loss of output level – common issues that can occur when using interfaces with unbalanced connectors, or when there is no galvanic isolation between the computer and the interface.
The unit's robust housing has also been designed to cope with the daily rigours of live use.
With plug-and-play installation and no separate power supply needed, the A-1 live promises a 'straightforward, practical option' for live sound engineers, DJs and other audio professionals.
More: www.fohhn.com