Audio and video patching component specialist Bittree has released the 969-A Series of programmable audio patchbays for bantam (TT) connections.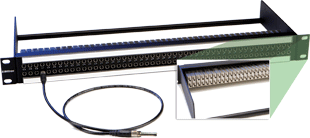 The 969-A Series is the latest generation of Bittree's 969 series of audio patchbays, which are used in a wide range of large-scale broadcasting, mobile production, and postproduction operations.
'For many years, the 969 has been the workhorse of our bantam patchbay line, delivering full programmability and the industry's most reliable patching for E3 connections,' says Bittree VP, Mike Buchanan. 'With the 969-A Series, we've taken everything that's great about the 969 and given it a new look, with a front-panel silk screen for easy identification of circuits. As a direct replacement for the 969 Series, the new 969-A patchbay works exactly the same and will slot right into an existing 969 footprint without requiring any changes in spec or workflow.'
Offering a high-density 2x48 jack configuration and available in 1.5U- or 2U-high units, the patchbays are fully programmable to allow users to change the normals and grounding of individual circuits quickly and easily. Normals can be changed to full-normal, half-normal or non-normal, and grounding can be changed to bused, isolated or looped. The 48 circuits on the front panel are numbered from left to right, with rear-interface options including E3, E90, ID (punchdown), and D25. Mating connectors, contacts, and normals (where applicable) are included with all standard rear interfaces.
'The 969-A Series is the latest evolution in Bittree's commitment to quality and technical innovation that reaches back more than 30 years,' Buchanan says. 'Because it's programmable, the 969-A can serve as the foundation for virtually any new, reconfigured or legacy installation.'
More: www.bittree.com