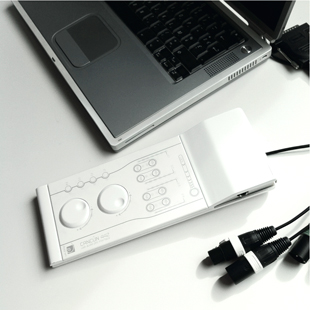 Digigram has announced its Cancun range of high-end mobile USB soundcards for mobile audio applications and reporters.
The first two models in the series are the Cancun 442-Mic and Cancun 222-Mic, offering 4-input/4-output and 2-input/2-output modukes respectively, and simultaneous analogue + AES I/O. Both offering no less than 2x500 MIPS dual-core processing power embedded in an ultra-robust casing.
A high-spec mic preamp, a professional analogue level of +24dBu max and guaranteed low latency of under 3ms are operated from a thin and durable touchpanel with LED lights hidden beneath the surface. The enclosure also houses all required connectivity for serious usage such as a Neutrik XLR plug for professional microphones.
In addition to the slimline hardware design, a companion software application presents all relevant information regarding the soundcard (gain values, driver set-up, current state, vu meters, locks, etc) in an efficient, no-fuss manner. As with the hardware, ergonomics is key. For instance, a user-selected level of transparency for the interface allows the user to simultaneously work on his/her usual audio software while keeping an eye on the sound card values for maximum efficiency with minimum intrusiveness.
Key features
Simultaneous analogue/AES I/O
Mic preamp 55dB gain, 100 dB THD+N, -126dB EIN
Professional analogue level of +24dBu max
Guaranteed low latency (3mS) on Windows and Mac OS-X platforms
Ergonomically advanced user interface for quick setup and efficient monitoring on both Windows and Mac OS-X platforms
Innovative hardware controls with LED-lighted touch panel
Neutrik XLR connectivity and break-out cables
The soundcard will be available to select professionals and Digigram partners by the end of the year and will be on general release by early 2012.
More: www.digigram.com