Riedel Communications MediorNet Compact is the latest member of the MediorNet family.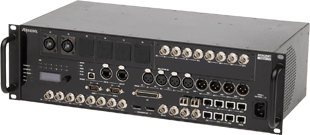 MediorNet Compact is the cost-effective and easy-to-use entry into the MediorNet approach to integrated media signal distribution and processing. It provides the flexibility of a true real-time media network, including integrated signal processing, at the cost of simple multiplexing point-to-point fibre products. With a network bandwidth of 50Gbit/s MediorNet Compact provides enough capacity for bi-directional transport of 12 HD-SDI signals, dozens of Madi streams or GBit-Ethernet signals and hundreds of audio channels or intercom ports – for streamlining the infrastructure of any mobile, studio or live event application.
MediorNet Compact provides connectivity for up to 12 3G/HD/SD-SDI signals, four AES ports, two Madi interfaces as well as four analogue audio I/Os with high-quality microphone preamps and a dynamic range of 117dB. Furthermore, MediorNet Compact features an interface for Riedel RockNet digital audio networks, two DisplayPort outputs, three AVB-compatible Gbit Ethernet ports and connections for serial data and GPIs. One Sync input and three Sync outputs complete the device's interfaces.
MediorNet Compact is fully compatible with the modular MediorNet systems and supports all network topologies including ring, daisy-chain, star or any combination of these. The units can be equipped with various fiber connectors, ranging from install-friendly LC connectors to road-proof Neutrik opticalCONs with integrated WDM multiplexing technology.
MediorNet Compact comes in a 3U-high housing and features integrated broadcast-quality signal processing tools such as Frame Store Synchroniser, Embedder/De-Embedder, Test Pattern Generator, On-Screen Display and Timecode Insertion at every port.
More: www.riedel.net