Hosa Technology has introduced the Pro Speaker Cables line of interconnects.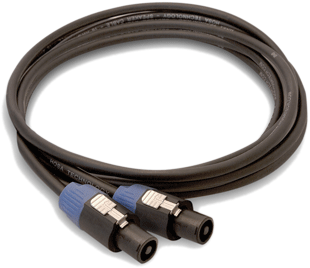 Using REAN connectors from Neutrik, the new cables feature 14 AWG oxygen-free copper (OFC) conductors and a black PVC jacket for durability, flexibility, and low visibility on stage. Both Loudspeaker and quarter-inch TS connectors are available in the line.
Rean Loudspeaker connectors incorporate silver-plated contacts, a glass-reinforced housing, a robust, twist-lock mating system and chuck-type strain relief for maximum cable retention. The quarter-inch TS connectors include nickel-plated contacts, a zinc die-cast housing, crimp-type strain relief and rubber boot kink protection.
'Hosa Pro Speaker Cables are engineered to deliver years of rugged, dependable performance,' says Director of Sales & Marketing, Jonathan Pusey. 'By combining REAN connectors by Neutrik with world-class manufacturing techniques, these cables deliver unsurpassed performance and value. I'm absolutely confident these cables will be very well received by all who audition them.'
Pro Speaker Cables are available in 3-, 5-, 10-, 25-, 50- and 100-ft lengths and will be available in Q4, 2011. Configurations include loudspeaker-to-loudspeaker, loudspeaker-to-quarter-inch TS, and quarter-inch TS-to-quarter-inch TS.
More: www.hosatech.com