Klotz Cables has released the PIE-SL0150 mains cable, with a patented IEC Lock C13 cable socket.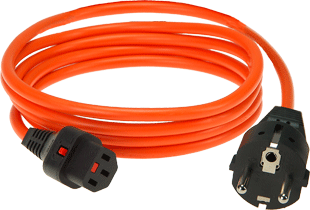 The deadlock mechanism at the protective earth contact of the cable socket reliably prevents unwanted disconnection of equipment during transport or by vibration. This works with all IEC C13/10A mains connections, without exchange of equipment connectors.
The two-pole grounded Schuko mains plug has a receptacle for French mains socket earthing pin and by its straight design is compatible with a wide variety of power strips.
To detach the IEC mains cable a release button at the cable socket has to be operated. As a warning not to unplug the cable by pulling as otherwise possible and practiced in hurried operation, the outer cable jacket is orange-coloured.
More: www.klotz-ais.com