Solid State Logic is expanding its line of Audio Creation Products (ACP) with the SSL 12, a 12-input/8-output USB bus-powered desktop audio interface.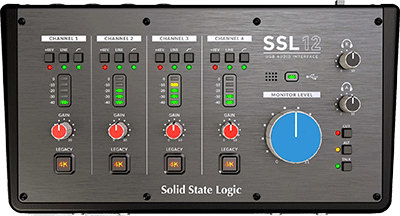 Following the SSL 2 and SSL 2+ interface models, SSL 12 offers four SSL-designed preamplifiers (with Mic/Line and HPF), two Hi-Z instrument inputs and two headphone outputs, along with next-generation 192kHz, 32-bit AD/DA converters. Advanced routing and monitoring options combined with eight channels of ADAT digital I/O give a total of 12 tracks of simultaneous recording and eight channels of playback in a rugged, portable design.
Contained within its SSL 360° software mixer, SSL 12 features a customisable SSL control room. This presents detailed I/O metering and assignation of functions to three front panel switches, including key monitor controls. There are also controls for Alternative Monitor Switching, Mono Sum, Invert Phase Left, Dim and Cut, as well as access to an onboard talkback microphone.
Creating up to four independent near zero-latency foldback mixes is quick and intuitive with console-style routing and recal of sessions is via a Save/Load function. In addition, users can choose between modes (Standard, High Impedance, High Sensitivity) to suit different headphone types or create additional line outputs via re-purposing the headphone outs.
Users can configure where SSL 12's Loopback feed is taken from – Record the output of a media player or create a custom sub-mix of a podcast via one of the aux buses. Both headphone mixes and line Outputs 3/4 are also accessible for further production flexibility. Electronic music producers and vintage instrument users are provided DC-coupled outputs for creating Control Voltage (CV) signals and Midi I/O.
Included with SSL 12 is the SSL Production Pack, a suite of software instruments, sounds, plug-ins and DAW that includes the Vocalstrip and Drumstrip 2 plug-ins, as well as three-month access to SSL's Complete subscription and three-month licenses from the likes of Antares and Output.
SSL 12 is priced at £333 ex.VAT, €399 + tax or US$499.