RME and DirectOut have announced the Digiface Ravenna, a mobile audio interface based on Digiface Dante and featuring a Ravenna module developed by DirectOut. The development expands RME's Digiface series with a powerful Ravenna model for USB and standalone operation.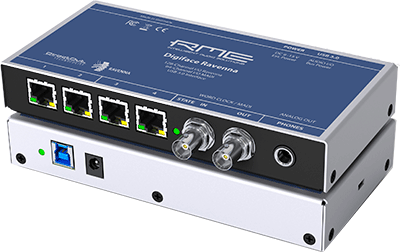 'We have known and admired RME for many years as a provider of professional computer interface technology and are very happy about this cooperation.' says DirectOut CEO/CTO, Claudio Becker-Foss. 'The combination of RME's experience in programming computer interfaces with DirectOut's Ravenna expertise will create a great new asset for the Audio-over-IP market.
'Both companies are committed to leading edge development and maintaining their products whenever standards or operating systems change. This is crucial, particularly for computer interfaces and makes Digiface Ravenna a future proof and highly reliable product for our customers.'
The device supports transmission of a total of 128 audio channels from Ravenna and optionally Madi via a single USB 3.0 connection. The fusion of RME's drivers (Mac/Windows) and DirectOut's Ravenna implementation, offers a reliable and flexible networked computer audio interface.
DSP-based TotalMix FX can be used to control the comprehensive routing and monitoring options (including the built-in headphone output). On the network side, the interface features a full-fledged Ravenna stack with AES67 and ST2110-30/31 support and redundant audio-over-IP streaming as per ST2022-7. In addition, the interface can also be used as a mobile 64-channel Ravenna/Madi converter without a USB connection to a computer. The coaxial Madi I/O connectors may also be configured to work as word clock sync I/O.
Digiface Ravenna can be powered by both an external power supply and USB bus power.