Bringing its iD44 audio interface into line with recent product upgrades, Audient has launched the iD44 (MkII).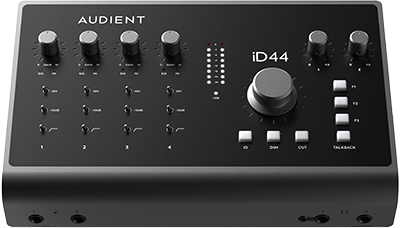 'As far as audio performance was concerned, iD44 was already fully specified,' says Audient Marketing Director, Andy Allen. 'Yet we saw an opportunity to make the best better: making a major improvement to the all important ADC's, incorporating additional must-have features and styling it with a beautiful new smoke-grey finish. All at the same price, delivering yet more value to our customers.'
The ADCs' THD+N figure sees a 9dB improvement, representing an astounding step up in audio performance for the iD44 (MkII). 'That's super clean audio with lower added noise and even less audible distortion,' Allen says.
iD44 (MkII) now also benefits from the addition of Audio Loop-back, so users have the ability to capture playback from multiple applications on the computer at the same time as the microphones – well suited for content creators, podcasters and livestreamers. The incorporation of a dual headphone amplifier, including both a quarter-inch jack and a mini-jack, means three sets of headphones can be plugged in at once, as well as the makeover of the unit's all-metal aesthetic, complete the key upgrades.
'The combination of these enhancements alongside four Audient Console mic preamps, class-leading converters, Adat expandability and balanced inserts means iD44 (MkII) really does deliver the audio performance of an Audient console straight to your desktop, and ensures with iD44, our customers get a professional grade audio interface without breaking the bank,' Allen adds.
Key features:
Four class-A Audient console mic preamplifiers.
Class-leading AD/DA converters.
Two Adat inputs/outputs for digital expansion.
Two discrete JFET instrument inputs.
Two fully-balanced inserts.
Main and Alt loudspeaker outputs.
Audio loop-back.
ScrollContro.l
Three User-defined Function Keys.
Dedicated Talkback, Dim and Cut controls.
+48V, Pad and HPF switches.
Ultra-low latency DSP mixer.
Word Clock output.
Standalone mode.
USB 2.0 compliant.
96kHz, 24-bit audio.
All-Metal Design
Free software and plug-ins.
iD44 (MkII) is expected to ship in June 2022 and will retail at the same price as its predecessor: £499.99 inc VAT, €599 inc Local VAT and US$699 MAP.
More: https://audient.com