Digigram has launched the ALP-X range of digital and analogue soundcards to replace its legacy Digigram VX soundcards. The first to appear are the ALP-222e and ALP-222e-Mic with further releases to be rolled out throughout 2022.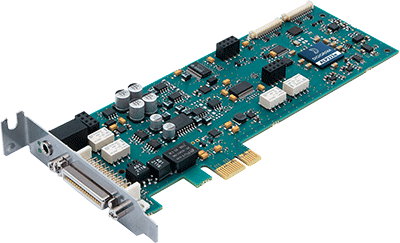 Available Q2 2022, both ALP-222e and ALP-2222e-Mic cards retain the signature features of VX222 soundcards – high sound quality for playing and recording (for the ALP-222-e-mic version) and robust design for reliability. In addition to their reference features, ALP222e and ALP222e-Mic have benefited from new developments for enhanced performances: a slim, form factor design will increase flexibility and allow larger, embarked applications on any PC, while Windows and Linux systems compatibility are among the extra features.
'Digigram VX cards have been a milestone in the audio business for the past 20 years, and their reference features have been widely acclaimed,' says Digigram Director of Sales, Marketing & Communications, Nancy Diaz Curiel. 'We are thrilled to open a new chapter with the new ALP-X range, with untouched sound quality and reliability. Both cards will seamlessly integrate broadcast studios or automation systems where high sound quality and robustness are key.'
On top of traditional broadcast industry application, new features of the ALP-X range enable Digigram to address the global industry for all sound sensitive applications where reliability and performance are paramount, including emergency systems, critical communications and 365/24/7 run applications.
'While capitalising on the trustworthy VX legacy, these new developments on the ALP222e and ALP222e-Mic are taking the whole range to a next level,' says Digigram Presales Manager, Stéphane Bert. 'When critical communications are at stake, accurate and reliable ALP222e and ALP222e-Mic are the perfect fit for audio and industry applications alike.'
More: www.digigram.com