Sommer Cable has introduced the SC-Elephant Robust SPM 440 DMX combination loudspeaker and DMX cable for simultaneous connection of subwoofers with integrated sensors at live events and rental companies.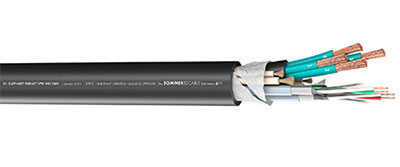 While conventional subwoofer designs have been in use for many years and proven to be reliable, Sensor Control Subwoofer Technology has now prompted a decisive step towards a complete and coherent loudspeaker set-up. This offers an extended low-frequency range with a flat frequency and phase response with greater precision and definition.
Sommer Cable has developed the SC-Elephant Robust DMX custom combo cable with a compact diameter of 19.5mm (0.77-inch), Enclosed within the stranding of the four 4mm (AWG11) loudspeaker cable element are two DMX cables, insulated and shielded, with a wire cross-section of 0.22mm (AWG24). This integrated 110Ω control lines allows for sensor-control subwoofer systems without the need for laying extra cables. As an added convenience, the control line may also be used as an ordinary microphone cable or for tie lines.
SC-Elephant Robust DMX will be available in Q1 2022.
More: http://sommercable.com/en