RME has announced the Fireface UCX II, the successor to the Fireface UCX audio interface featuring 40 channels of I/O and full stand-alone operation and recording – as well as SteadyClock FS digital clocking.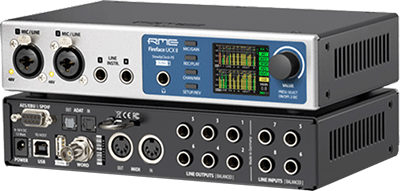 With the company celebrating its 25th anniversary, the Fireface UCX II represents 25 years of digital audio innovation. 'Fireface UCX II truly represents the essence of freedom, flexibility, and passion,' says company founder Matthias Carstens. 'At present, no existing audio interface offers more connectivity and functionality in a half-rack package.'
The Fireface UCX II's front panel offers two mic/line combo XLR preamps, two digitally controlled line/instrument inputs and a headphone output that can also double as an unbalanced stereo output. Accompanying an updated display, a large main volume encoder and set of buttons provide full control over the interface, as well as level metering for all incoming and outgoing audio signals. The UCX II offers full stand-alone operation, with all functions controllable directly from the front of the unit, as well as control over device states (clocking and sample rates) and DURec.
The rear panel features ten analogue balanced line inputs and outputs, Midi I/O, Adat I/O, AES/EBU and SPDIF I/O (via the included breakout cable), switchable word clock I/O on BNC, a mains power connection, plus a USB port for interfacing with a Mac, PC or Apple iPad. A second USB connection (DURec) allows the connection of USB memory sticks and external hard drives, and can alternatively be used for direct connection of RME's optional ARC USB remote control.
Thanks to the Direct USB Recording functionality (DURec), any input or output of the Fireface UCX II can be recorded directly to a USB storage device via the integrated DSP, allowing for full stand-alone recording and playback without the need to connect to a computer.
Individual tracks can be named in advance via RME's TotalMix FX software mixer, with potential applications for DURec including the creation of simultaneous backup recordings in the studio; the recording of live performances and rehearsals; multi-track field recording; or the performing of virtual sound-checks at a live music venue.
The Fireface UCX II also features RME's latest jitter rejection technology SteadyClock FS, which uses the same digital clock technology found on RME's award-winning ADI-2 Series.
SteadyClock FS supports high-quality AD and DA conversion, optimising both recording and playback. With highly efficient jitter-suppression and filtering technology, self-jitter has been reduced all the way down to the range of femtoseconds, hence the name SteadyClock 'FS'.
All of the Fireface UCX II's line-level outputs are fully DC-coupled, allowing sending of control voltages (CV) and Gate information to modular synthesisers including the popular Eurorack format.
The Fireface UCX II comes with the TotalMix FX DSP mixer offering comprehensive level metering, routing and monitoring options. EQ and Dynamics are available on every input and output channel, as well as reverb and delay FX sends for enhanced latency-free monitor mixes.
A free companion app, TotalMix Remote, can be used tocontrol the hardware mixer and effects section of the Fireface UCX II via a network-connected PC, Mac or iPad, including wirelessly over Wi-Fi. All settings are mirrored and updated in real-time.
In addition, RME's DIGICheck Analyzer is a free suite of audio analysis tools that provides Windows and Mac users with professional measurement and analysis of all digital data feeds in both directions, and with maximum precision.
The set of tools offered by DIGICheck includes comprehensive multichannel level metering (peak and RMS); a 30-band spectrum/frequency analyser, plus correlation meter and vectorscope; a loudness metering tool for checking against the IT 1770/EBU R128 standards commonly found in broadcast; and a Surround Audio Scope, for surround sound level metering with extended correlation analysis, ITU weighting and ITU summing.
The RME Fireface UCX II is expected to ship in July 2021. UK availability is via Synthax, with an RRP of £1,149.