Following its Zen Go Synergy Core Antelope Audio has announced the Zen Q Synergy Core audio interface for small-to-mid-sized studio set-ups.
A desktop bus-powered audio interface with Thunderbolt 3 connectivity, the unit packages Antelope Audio's AD/DA converters, discrete ultra-linear mic preamps, and 64-bit AFCTM (Acoustically Focused Clocking) technology with a collection of real-time-processed analogue-modeled effects.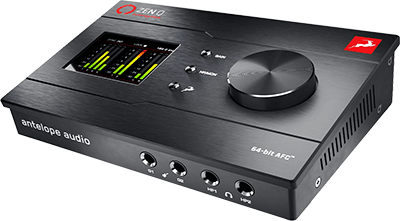 Recording, mixing and playback are supported at up to192kHz, 24 bits, with converters granting up to 127dB of headroom. Two ultra-linear preamps featuring console-grade circuitry and proprietary 64-bit AFCTM and jitter management algorithm ensure efficient AD/DA conversion with increased sound width, separation, and detail.
Signature Auraverb (reverb) included, Zen Q Synergy Core comes with a virtual library of 37 effects for its onboard Synergy Core proprietary platform, with real-time effects processing powered by dual DSP chips and a single to deliver direct hardware monitoring with imperceptible latency. An abundance of compressors, equalisers and mic preamps, as well as guitar cabs and amps are always available as a result. It is possible to expand this collection effects – encompassing emulations of classic gear and third-party specialist effects (including Antares' Auto-Tune Synergy, Grove Hill's Liverpool, Gyratec's EQs, and Inertia Sound Systems' Instinct Synergy) from Antelope Audio's Software Store.
Zen Q Synergy Core's modelling engine also allows pairing with Antelope Audio's Edge range of microphones for real-time use of vintage microphone emulations.
The two Discrete ultra-linear preamps offer 65dB of gain and both work as mic/line/Hi-Z inputs on rear panel combo XLR jacks, and supply 48V phantom power. Two DC-coupled TRS line outputs also allow the audio interface to transmit CV (Control Voltage) to an analogue synthesiser.
Stereo monitoring comes courtesy of a further two TRS outputs, with up to eight additional channels available over Adat connection, with further digital connectivity provided by the two-channel SPDIF connections. A bus-powered Thunderbolt 3 port provided up to 16 input and 16 output channels for any popular DAW with custom macOS and Windows drivers.
A software control panel for macOS and Windows facilitates enhances workflow – with features including I/O routing that is simplified with pre-configured settings to allow immediate recording and playback; customisable presets with signal routing, level adjustments, mixer, and effects settings; customisable monitor mixes with volume, pan and reverb; loopback capabilities to stream and record playback and interface inputs simultaneously for online broadcasting. Zen Q Synergy Core's front panel provides easily accessible controls over input and output levels, plus other settings, bolstered by a multifunctional IPS (In-Plane Switching) display.
Zen Q Synergy Core will ship in Q2 2021 at a projected price of US$899/€899 available through authorised dealers online directly from Antelope Audio.