Sommer Cable has introduced the HI-HOIC Micro HDMI fibre-optic cable, with a dovetail end connection allows the 4mm HDMI cable with a micro connection to be threaded easily and then terminated with a snap-on full size HDMI connector.
This fail-safe HDMI installation over fibre-optic technology results in long-distance video and audio signal transmission with a performance of 18Gbit/s (HI-HOIC).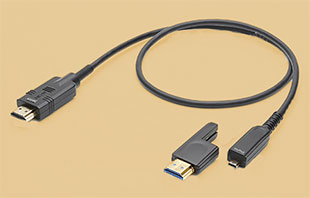 The HI-HOIC AOC Install connection cable shown here uses a high-performance fibre-optic construction in a highflex jacket and is equipped with robust all-metal connectors from Sommer cable's own HiCon line, together with a high-quality chipset made in Germany. Due to its compact diameter of 4mm, the cable can be laid almost anywhere in a convenient and space-saving way. The optical transmission of the high-speed data works very reliably and is also suitable for use in RF-exposed environments.
Convenient (uni-directional) pulling through empty pipes and cable ducts is guaranteed by the super compact micro HDMI D-type connector on the sink side (monitor, beamer, TV). The supplied clip-on pulling device (13.7mm x 10.14mm) provides additional protection to the connector, and allows a safe and easy installation. Afterwards the micro HDMI can be converted to the type-A HDMI standard by means of an interlocking precision adapter attachment with a dovetail guide.
The connection cable ensures error-free and loss-free signal transmission for clear pictures and high-quality sound. It is downward compatible and supports all previous HDMI formats and standards.
Included is an optional USB voltage feed-in adapter, but due to the low current drain of the chipset, the manufacturer maintains that this is rarely required. For mobile applications in high-end home cinemas or for larger gaming set-ups, the company also offers the 48Gbit/s HDMI cable variant HI-HO48.
More: www.sommercable.com