The PreSonus MicroStation BT Bluetooth 5.0 stereo monitor controller is designed to take audio from professional hardware, as well as a smartphone, tablet or other Bluetooth source and feed it to a full-range loudspeaker system. Additionally, it can be hardwired to a powered subwoofer to create a 2.1 listening environment.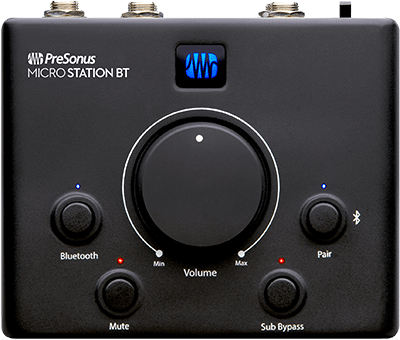 A Bluetooth-enabled device can be quickly paired with an audio source by the press of a button. Alternatively, a stereo 3.5mm input enables hardwiring of a source, and a Bluetooth On/Off button allows toggling between Bluetooth and analogue inputs. Balanced left and right quarter-inch TRS inputs route audio from pro audio hardware, such as an audio interface, to your speakers and subwoofer.
A powered subwoofer can be added using either the balanced quarter-inch TRS or unbalanced RCA subwoofer outputs. A quarter-inch stereo headphone/aux output supports connection of headphones or sending stereo audio for streaming or recording.
Controlling the MicroStation BT's features is made fast and easy by a large, ergonomic volume knob, that simultaneously controls the overall level of connected speakers and subwoofer. A Sub Bypass button mutes the subwoofer feed to toggle between a 2.1 system and the full-range speakers. A main Mute button with LED status indicator silences loudspeakers or headphones without stopping the playout.
The PreSonus MicroStation BT is available for a US street price of US$129.95.