Klotz has announced the availability of its new D2 cables for digital audio in compliance with AES/EBU, analogue audio (microphone) signals, and also digital DMX lighting control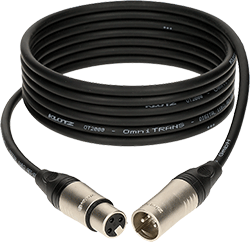 Low capacitance and attenuation plus dense shielding with spiral shield guarantee the interference-free signal transmission crucial in digital media, even over long distances. Closely twisted pairs of conductors boost resistance against external electromagnetic interference fields.
The D2 is made up with OT2000 cable, which has characteristic impedance of 110Ω as is obligatory for digital signals. A rugged PVC outer jacket, 6.5mm in diameter, provides mechanical stability without impairing the cable's flexibility. The D2 also features Klotz's own nickel or Neutrik's black chrome high-quality 3-pin XLR connectors.
The D2 series is available in standard lengths from 0.3m to 20m.
More: www.klotz-ais.com