Antelope Audio's Zen Go Synergy Core is the company's first bus-powered USB audio interface, offering high-quality AD/DA conversion, proprietary 64-bit AFCTM (Acoustically Focused Clocking), and access to 80-plus analogue-modelled real-time effects.
Supporting sample rates of up to 192kHz at 24 bits, Zen Go Synergy Core uses a plug-and-play interface that frees users from convoluted installation and configuration settings, supporting two discrete transistor-based preamps; two mic-XLR and line/Hi-Z/quarter-inch jack connections; and two independent headphone outputs with dedicated DAC; stepped analogue rotary encoder for precise gain adjustment.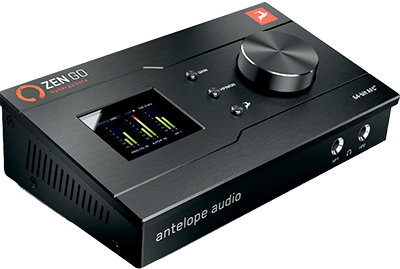 There is an alternative monitor line out on RCA connectors directly fed from the main DAC; SPDIF digital I/O on RCA connectors for expansion; dedicated IPS (In-Plane Switching) display for signal monitoring; direct monitoring mixers for real-time hardware-based monitoring with onboard effects; advanced software control panel for macOS and Windows; and dedicated secondary USB-C connection for external power and reverse charging.
Working in-the-box, Zen Go Synergy Core offers 37 emulations of some of coveted analogue studio gear, spanning a rare Austrian EQ through to British solid-state processing with much in-between. These effects are hosted by Synergy Core as a proprietary processing platform using DSP and FPGA processors for imperceptible latency, allowing direct monitoring of the processed signal in real-time and offloading all processing to the audio interface from the host computer's CPU and memory capacity.
Zen Go Synergy Core features the same ultra-linear preamp circuit found in British and American recording and mixing consoles of the past. Planted firmly in the present, this design's high-gain structure and transparency make it a match for any type of microphone. Musically vintage sound can be achieved by loading a preamp emulation as a real-time Synergy Core effect, enhanced still further when working with one of Antelope Audio's Edge series modelling microphones.
Zen Go Synergy Core will ship in Q1 2021 at a projected price of US$499/€499.