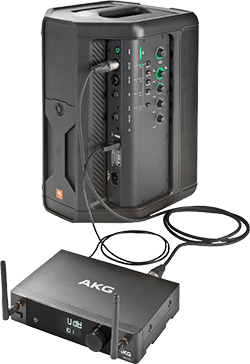 Aimed at musicians, DJs, presenters and entertainers wanting freedom of the stage while performing, JBL's Eon One Compact USB Power Cable delivers power from the Eon One Compact battery-powered portable PA to an AKG wireless system or a DigiTech-DOD guitar pedal.
With a USB A connection that plugs into the loudspeaker and a 5.5mm power terminal that connects to an AKG DMS or WMS system or a wide range of DigiTech-DOD pedals, the cable allows Eon One Compact's rechargeable battery to power select external devices.
Available in two versions and designed to be used specifically with the Eon One Compact, AKG wireless systems and DigiTech-DOD guitar pedals, the 9V cable powers AKG DMS systems or pedals, while the 12V version powers AKG WMS wireless mic systems.
More: https://jblpro.com