SPL has added the Control One and Marc One monitor controllers to the new Series One product line, joining the Phonitor One and Phonitor One d headphone amplifiers.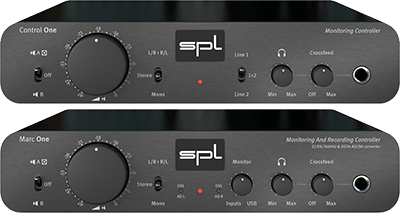 The SPL Control One is a high-quality analogue control centre monitor controller for the modern studio, managing audio sources and monitor speakers including a subwoofer. In addition, the device features an individually adjustable headphone amplifier with Phonitor Matrix.
The SPL Marc One extends this feature set with a stereo AD/DA converter unsing the AKM AK 4490 Velvet Sound chip for DA and the matching AK 5552 for AD conversion. Besides playing and recording digital PCM audio material at up to 768kHz, 32-bit fidelity, a playback of Direct Stream Digital (DSD) Audio up to DSD4 is also possible. Marc One can directly be connected to a computer via USB, regardless of whether it is a Mac, PC or a Class Compliant Mobile Device. Analogue volume controls, premium switches and a high-quality metal housing with aluminium front panel round off the overall design.
'With the Marc One and the Control One we are bringing two monitoring controllers to the market, designed to speed up the workflow and to create remarkable sounding mixes,' says Hermann Gier. 'The Marc One is our first monitoring and recording controller with a hi-res AD/DA converter onboard. That means that users can not only monitor any USB source but they can now also record using their beloved channel strips or mic preamps reaching a higher sound quality than with the usual interfaces.'
The SPL Control One has a recommended retail price of US$599, and the Marc One with A/D and D/A has a recommended retail price of US$799. Both products are set to be available in October 2020.
See also:
SPL Phonitor One