EVO by Audient is following its EVO 4 recording interface with the larger, 4-input/4-output EVO 8, which provides advanced features, professional sound and technical quality.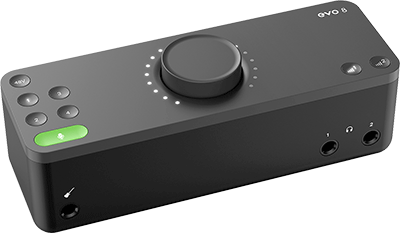 The second interface from the EVO range, EVO 8 is designed for intuitive operation for producers, home recordists, podcasters and livestreamers. With an extra set of outputs and the ability to set the monitoring levels of the two outputs independently, EVO 8 gives even more monitoring flexibility. 'We still want to make technology accessible for all, no matter the skill-level or artform,' says Audient Marketing Director, Andy Allen.
'EVO 8 has all the same features as EVO 4 with more inputs and outputs so you're getting more bang for your buck. EVO 8's additional inputs can really broaden your options: whether that means more musicians playing together, better definition recording instruments using multiple mics or just more guests on your podcast. It's still all about making great-sounding recordings as easy and effortless as possible.'
EVO 8 also has Smartgain that automatically sets the gain levels in response to playing or singing. 'This is perfect for anyone who wants to focus on being creative, or perhaps is just starting out,' Allen adds. 'Of course, pros can still dial in the gain manually if they choose, as well as benefiting from other features they'd expect from a professional audio interface.'
The EVO range provides high performance, all new EVO mic preamps with 58dB gain range, class-leading converters with a 113dB dynamic range alongside a JFET DI, Smartgain, Smart Touchpoints, two speaker and headphone outputs, ultra-low latency, a dedicated EVO software mixer and audio loop-back functionality.
EVO 8 will be available in some markets early to mid-October, whilst customers in Europe will have to hold on until mid-November to get their hands on the latest audio interface from EVO by Audient. EVO 8 is retailing at £160 inc VAT, €190 inc local VAT and US $199 MAP.
Key features:
Four EVO mic preamps.
Class-leading AKM converters.
Smartgain.
Smart Touchpoints.
JFET instrument input.
Two stereo speaker outputs.
Two headphone outputs.
Low-latency software mixer.
Audio loop-back functionality.
USB bus powered.
Free software and plug-ins.
More: http://evo.audio