Digigram's Aqonda EtherSound stageboxes are now remotely controllable via Soundcraft and Studer digital consoles, as well as those from Innovason and Yamaha.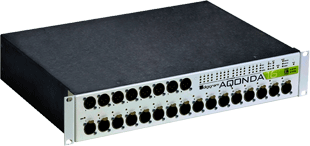 Building on the success of its original EtherSound audio bridges, the digital and network audio specialist has released 'latest generation' devices that are capable of converting up to 16 analogue signals into as many EtherSound channels and vice versa (extracting EtherSound channel to analogue outputs). Furthermore, both Aqonda units (8-in/8-out or 16-in/16-out) offer high end switchable mic/line inputs and Neutrik connectors.
In addition to their remote control capabilities, Aqonda devices are the first in the world to be ES-Giga ready (EtherSound 2 x 256 channel count plus additional network and control capabilities). Time- and money-saving features will include support for ES-Giga TCP/IP data tunneling, allowing for remote control of various components such as amp control devices, DMX lighting controllers andprocessors.
'Aqonda optimises the latest technological developments to take the product range to the next level,' says According to Digigram EtherSound Product Manager, Joffrey Heyraud. 'The result is a compact, 2U-high device that is remotely controllable from a number of different digital control surfaces from several manufacturers, and offers future-proof EtherSound technology thanks to its full compatibility with both ES-100 and upcoming ES-Giga.
'A simple switch on the back panel determines network choice, ready for the day when ES-Giga set-ups are widely available. These developments confirm Aqonda as the choice of excellence regarding EtherSound stageboxes, and an ideal partner for live sound or OB applications.'
More: www.digigram.com