Tieline has released the TieLink Traversal Server – designed to facilitate simple codec discovery, NAT traversal, and connections throughout an entire codec network.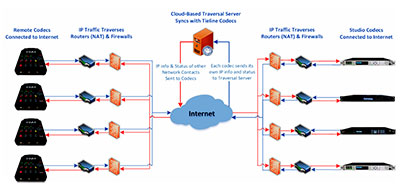 Traversal Server is a secure, independently hosted global server network, with multiple global backups. It centralises Tieline codec contact list management and provides self-discovery of codecs within customised 'call-groups'.
Users can easily view the online or offline status of all codecs in a group and whether it is connected or disconnected. It also provides NAT traversal to simplify connections. Now there's no need to worry about complex IP network configuration when using TieLink.
'TieLink Traversal Server is now available to Tieline codec users when they upgrade to v2.20 firmware,' says Tieline VP Sales APAC/EMEA, Charlie Gawley. 'TieLink is particularly useful to networks with many IP codecs, because the 'address book' approach to grouping codecs greatly simplifies dialling for non-technical users.
'When coupled with the Cloud Codec Controller, designed to manage an entire fleet of Tieline codecs remotely, engineers have the power to configure, connect and monitor all remote codecs from the studio more easily than ever before.'
The TieLink Traversal Server is free to use with all Genie, Merlin and ViA codecs. Its release coincides with the release of v2.20 firmware in Tieline ViA, Genie and Merlin codecs.