Codec manufacturer Tieline Technology has released firmware v2.20.06, bringing a wide range of new features to its ViA remote codec. This is the first official release to support the TieLink Traversal Server for simpler IP connections and supports the Dual Active SIM LTE module.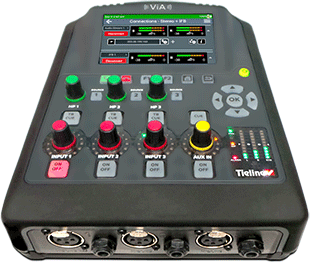 The free update also delivers the ability to create all program connection types using the touchscreen, so no PC is required. Additionally, users will have access to a new three-mono-connection use case for more flexible connection. Ultra-reliable IP streaming is further enhanced with support for configuring up to three SmartStream Plus redundant streams per audio stream. This means that four simultaneous audio streams can be transmitted using different IP interfaces, which significantly reduces the chance of lost IP packets over networks like the internet.
Among significant inclusions in the update are support for FTP of audio files to allow uploads of locally recorded files for news ingest or podcasts; support for Wi-Fi Hotspot mode and tethering of Android smartphones; Connections panel in the Toolbox Web-GUI allowing editing of programs and dialling endpoints; and support for SIP EBU 3368 profiles.
'Many new features will deliver significant workflow improvements that enhance and expand the options available for remote broadcasts,' says Americas VP of Sales, Doug Ferber. 'It also cements ViA's position as the most feature-packed and flexible remote codec on the market today.'
More: www.tieline.com/via