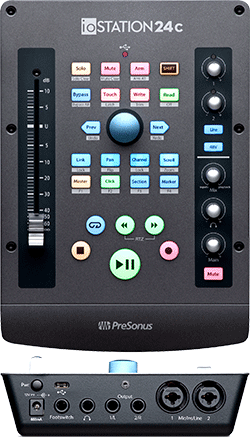 Designed for solo artists, podcasters and other content creators in mind, the PreSonus ioStation 24c audio interface and production controller manages both audio recording and DAW control in a compact, ergonomic desktop design.
The interface/controller combines the recording capabilities of the popular Studio Series USB-C audio interfaces with the functionality of the FaderPort USB production controller. It features two PreSonus XMax class-A analogue mic preamps, along with audiophile-grade, 192kHz, 24-bit analogue-to-digital converters for professional-quality recording and monitoring.
As with the FaderPort-series controllers, keyboard and mouse are used for tasks they do well, while the ioStation 24c handles the mix. The ioStation 24c provides easy-to-use transport controls; a 100mm touch-sensitive, motorised fader; and the Session Navigator section, which provides easy access to eight critical functions for maximum flexibility. The large 360° encoder button and companion buttons are used to edit and mix – scrolling through a recording timeline, using the encoder, or measure by measure with the arrow buttons; zooming in and out on the timeline with the encoder and making tracks larger or smaller; navigating and dropping markers; and maintaining control of the main level. A footswitch input enables hands-free start/stop (footswitch not included).
Support for the Mackie Control and HUI protocols enables control of Pro Tools, Logic Pro X, Cubase and Ableton Live, as well as dwep integration with included PreSonus Studio One Artist. In addition to Studio One Artist, the ioStation 24c comes with PreSonus' Studio Magic Plug-in Suite.
The ioStation 24c is available at a street price of US$299.95.