Following the compact Babyface Pro USB audio interface, the RME updated the design with the Babyface Pro for bus-powerable mobile recording via USB 2.0. The new RME Babyface Pro FS now promises further improvements 'across the board', including the addition of SteadyClock FS, which uses the same digital clock technology found on RME's ADI-2 Series of AD/DA converters.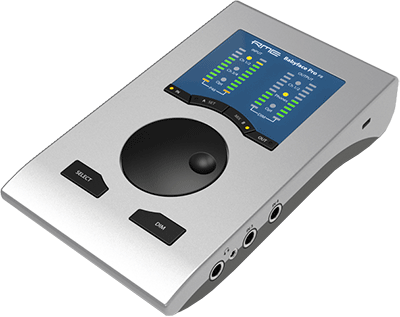 SteadyClock FS supports high-quality AD and DA conversion, optimising both recording and playback quality,With RME's highly efficient jitter-suppression and filtering technology, self-jitter has been reduced all the down to the range of femtoseconds (hence SteadyClock 'FS').
The RME Babyface Pro FS is sculpted from a single block of aluminium, with extensive front panel controls for quick access to commonly used features like input and output selection and recalling mix settings, while a large encoder provides smooth and accurate control over levels and gains.
Both mic pres can be used simultaneously with 48V even when powered solely via USB bus-power. Further connectivity includes two Instrument/Line inputs; Midi I/O via an included breakout cable; and optical Adat I/O for expanding the channel count with up to eight additional I/O, when connected to an external AD/DA converter or microphone preamp.
Babyface Pro FS features a 19/+4dBu switch on the underside of the interface, for reducing the output level (and improving SNR values) when using sensitive active monitors, and a Kensington lock port provides a level of security against theft.
Controllable via a dedicated software interface, the FPGA-based digital mixer TotalMix FX provides digital mixing console functionality, complete with three-band parametric EQ on every channel, and reverb and delay effects sends for providing enhanced monitor mixers.
The two parallel headphone outputs (3.5mm and 6.3mm) feature the same output op-amps found on the RME ADI-2 Pro FS, and two digitally-controlled microphone preamps provide an incredibly clean signal, even for very low-level microphones.
A free companion app TotalMix Remote enables remote control of RME audio interfaces over any standard IP based network. With TotalMix Remote installed on a Mac, PC or iOS device, the RME Babyface Pro FS can be controlled directly from another computer on the same network, including over Wi-Fi. Wireless touch-screen control is therefore possible when using the Babyface Pro FS with an Apple iPad, allowing engineers to control their interface from anywhere in a studio or live venue.