Symetrix xIO Stage 4x4 Dante stagebox promises a 'far superior' digital solution for professionals installing audio systems in difficult and demanding stage environments.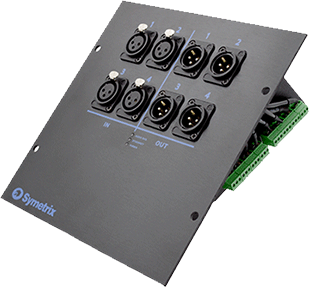 The xIO Stage 4x4 is a rugged, durable, Audio-over-IP solution that installs cleanly in any suitable Nema electrical enclosure. providing four analogue microphone/line inputs and four line-level outputs, andconverting the signals to and from Dante for transfer over standard Cat5/6 cable from a stage or other source location to a Symetrix Radius NX, Prism, or Edge DSP.
Aimed at performing arts theatres, school 'gymnatoriums', houses of worship, courtrooms and conference rooms, the xIO Stage 4x4 employs 48kHz, 24-bit ADA converters; Neutrik XLR connectors; carefully considered cable-management tie-points; and simple reconfiguration of input sources. It is powered by a PoE injector or PoE network switch. Once signals are on the Dante network, they can be routed by a Symetrix DSP, without degradation, into multiple zones. Symetrix Composer software enables real-time setup and control from a Windows PC.
'A system is only as good as its weakest link,' observes Symetrix owner and CEO, Mark Graham. 'The Symetrix xIO Stage 4x4 is the antidote to endpoint weak links that diminish the performance of your audio system designs. We at Symetrix are proud to put our name on this highly engineered product of exceptional quality.'