Universal Audio has released the Apollo x4 Thunderbolt 3 desktop audio interface for Mac and Windows. Targetting musicians and producers, the interface allows tracking, overdubbing and mixing of larger projects with elite-class A/D and D/A conversion, four Unison-enabled preamps, and Quad Core real-time UAD plug-in processing.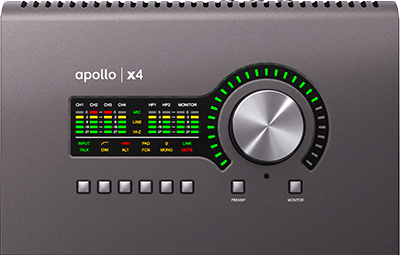 Apollo x4 features four Unison-enabled mic preamps with emulations of hardware from Neve, Helios, API, Manley and Universal Audio among others. Exclusive to UA Audio Interfaces, Unison technology claims to provide sought-after tube and solid-state mic preamp performance, including input impedance, gain stage 'sweet spots' and component-level circuit behaviour of the original hardware.
'The secret to Unison is its hardware-software integration between Apollo's mic preamps and its onboard UAD Quad Core DSP Acceleration,' the company says. 'Simply place a Unison preamp plug-in on your mic input in Apollo Console software, and it physically reconfigures the Apollo interface's impedance – so you can tap into the classic sounds of the world's most recorded mic preamps.'
Apollo x4 offers a suite of analogue emulation plug-ins including the world's only Teletronix LA-2A, 1176LN, Fairchild 670, Pultec EQs, and the UA 610-B Tube Preamp/EQ.
Apollo x4 has a 127dB D/A dynamic range and allows up to four interfaces and six UAD-2 devices to be cascaded over Thunderbolt, offering flexible DSP and I/O as studio needs evolve.
More: www.uaudio.com