The Klotz Cables has announced the CATLink and TrussLink series.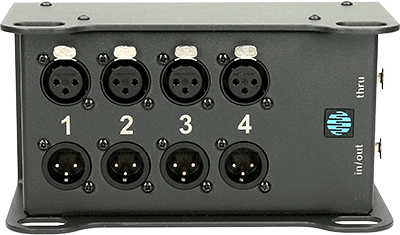 As a network cable has four pairs of twisted wires each with characteristic wave impedance of 100Ω, the new Klotz CATLink Series can handle four audio signals (analogue or digital) or four DMX signals. The internal wiring is naturally 'digital ready', guaranteeing interference-free performance of the CLAES3PTRUSS as a DMX or AES/EBU box.
Klotz TrussLink Stage Boxes feature paired parallel configurations of XLR connectors (XLR 3p. F/M) , and can be used as both inputs and outputs – maximising their flexibility in professional stage work and speeds up set-up and take-down times.
The CLAES3PTRUSS is suited to a range of roles, from use as a small sub-stagebox to a full-scale multicore system, used for transmitting signals from the stage to the FOH or submixer and back. The rugged aluminium housing has non-slip rubber feet and laser-engraved labelling. With four safety lanyard holes and an M10 thread for use with a Manfrotto Super Clamp, the CLAES3PTRUSS is easy to mount to rigs and trusses.
Klotz recommends using a network conductor with overall shield (such as its own Klotz RC5EE cable) as a connection cable, to ensure the four separate channels share a common earth.
More: www.klotz-ais.com