Klotz ais has announced the LPA5FNS Sputnik adapter cable for L-Acoustics' LA4X System Amplifier.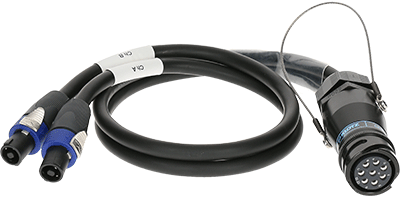 Rather than sporting a PA-Com 8-pin connection, the LA4X has Speakon outputs, for which the Klotz LPA5FNS enables the amplifier to be used with its PA-Com Speaker Multicore Cable. The LPA5FNS adapts the four channels of the LA4X to PA-Com, and dramatically simplifies combination with its fellow system amplifiers LA8X and LA12X.
The build quality of the LPA5FNS Sputnik adapter follows that of other Klotz products, with quality original connectors and 4mm² speaker cable throughout. 'Featuring the Klotz splice grommet in high-strength POM (polyoxymethylene) and rugged strain relief loop, the Sputnik adaptor offers exceptional quality,' the company says.
More: www.klotz-ais.com