Neutrik has launched the NA2-IO-DPro Dante interface and opticalCon Dragonfly fibre-optic camera connector.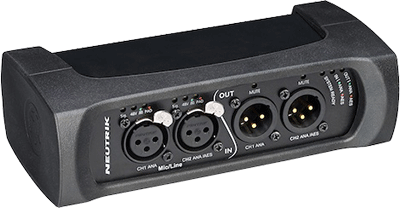 The 2-input/2-output NA2-IO-DPro intelligent Dante interface features two switchable mic, line, AES/EBU inputs and two switchable analogue line, AES/EBU outputs, and two Dante ports for redundancy or device daisychaining. With its small form factor, metal construction, and removable protective rubber casing, the NA2-IO-DPro claims to be a 'rugged, reliable solution optimally suited to a wide range of applications'.
The NA2-IO-DPro front panel provides two latching XLR inputs and two XLR outputs. AES/EBU operation is seamlessly and independently auto detected for inputs and outputs. Using Neutrik's free DPro controller software for Mac or PC, +48V phantom power can be applied, microphone preamplifier gain, pad, and high-pass filtering can be set per channel, and input channels can be linked for matched operation. Output channels can be muted or unmuted within the software.
The rear panel provides primary and secondary Dante ports on Neutrik etherCon connectors. The secondary input can be configured for redundant or Switched mode (for daisy chaining). When operating in Switched mode, in conjunction with a 60W PoE injector, up to eight devices can be daisy chained. Up to four devices can be daisy chained with a 30W PoE injector.
NA2-IO-DPro is AES67 compliant. Power must be supplied externally via either a PoE switch or a PoE injector per IEEE 802.3af/at, Class 2 or no classification at 6W. With optional mounting brackets or a rack panel, the NA2-IO-DPro can be mounted below tables, in floor boxes, in racks, or on the stage truss.
The opticalCon Dragonfly Fiber Optic Camera Connector Series is the latest addition to the company's opticalCon family of products. The Dragonfly series offers advanced lens technology for the Broadcast and A/V markets, ensuring robust, reliable connectivity that is easier to maintain than common hybrid camera signal transmission systems of similar performance.
Based on the company's XB2 Technology, Dragonfly offers near to physical contact connectivity levels of efficiency. With a signal surface 322 times larger than physical contact surfaces, its innovative fusion splice, high-performance fibre lens transmits UHD 4K and 8K signals with low loss. Additionally, the oversize signal surface provides for low sensitivity to dust and dirt. Requiring no specialist tools, cleaning uses compressed air and water.
With its reliable push/pull locking mechanism, IP68 rated dust and waterproof rating in mated condition, and proven anti-kink boot design, Dragonfly offers a long life of 10,000 mating cycles. Dragonfly connectivity particularly offers robust protection against vibration, with far lower potential for damage. It is also field serviceable – with a fusion splicing kit – making Dragonfly an outstanding choice for field broadcast applications.
With high performance, low loss attributes and consistent quality – including 100per cenrt reliability, even when subjected to extreme temperature fluctuations – Dragonfly is both innovative and future-proof. Its hybrid connection transmits both power and data over a single connection, with low maintenance intervals. Simple and efficient, switching to Dragonfly is easy, as it fits into standardised broadcast cutouts.
More: www.neutrik.com